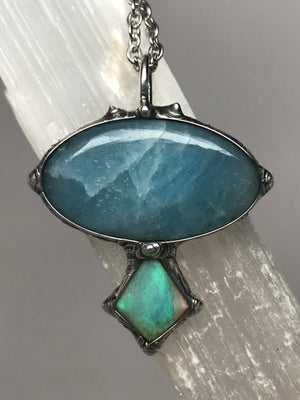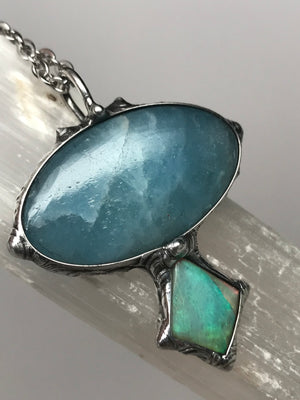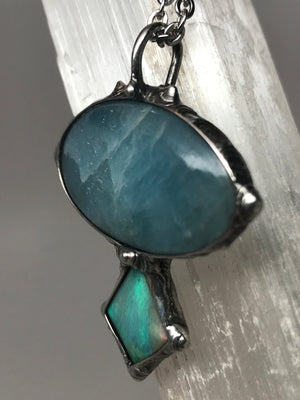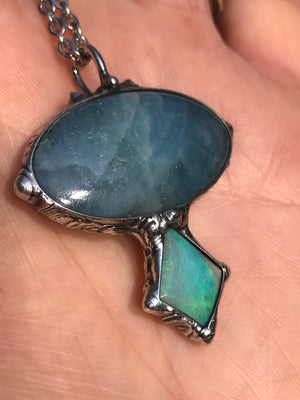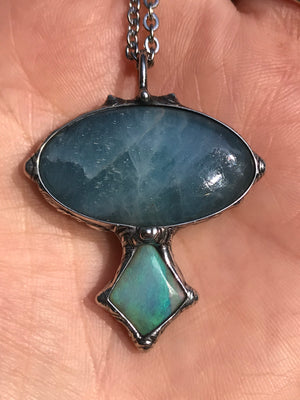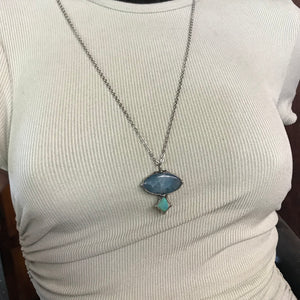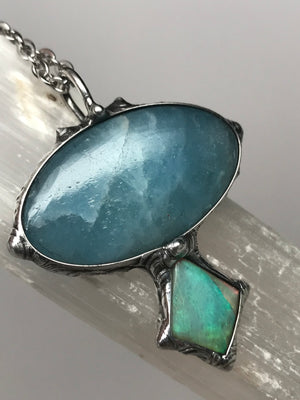 Reserved for Scarlett Blue Aquamarine pendant with lightning ridge Opal
Aquamarine evokes the purity of crystalline waters, and the exhilaration and relaxation of the sea. It is calming, soothing, and cleansing, and inspires truth, trust and letting go. In ancient lore, Aquamarine was believed to be the treasure of mermaids, and was used by sailors as a talisman of good luck, fearlessness and protection. It was also considered a stone of eternal youth and happiness.
Associated with the Throat chakra, Aquamarine helps overcome the fear of speaking, and is an excellent stone for teachers and presenters of all types. It relaxes speakers to a stage of consciousness in which they are fully aware of their own truths, wisdom and feelings, and able to articulate them with clarity and conviction. It also allows one to speak clearly and without anger in difficult situations.
Lightning Ridge Opal is considered to be extremely lucky and the most uplifting of the Opals, bringing Light into the aura. It eases distress and dissolves depression and hopelessness, helping one face their darkest fears and to release that which is holding one back. Linking the Root and Crown Chakras, Lightning Ridge Opal connects one's highest spiritual aspirations with one's physical body, making it a powerful magnifier of intention and manifestation. It is a protective stone for deep inner work, soul retrieval or past-life recall, and can be used for "gazing" into the past, present or future. It is highly prized as a power stone for magic ritual and can be used for "reading eyes" in order to scry the truthfulness or intent of a person.