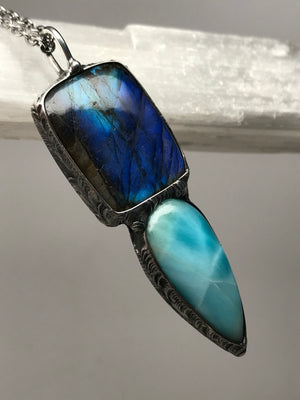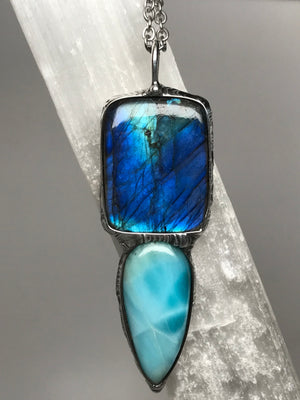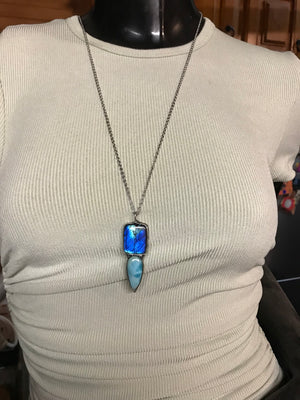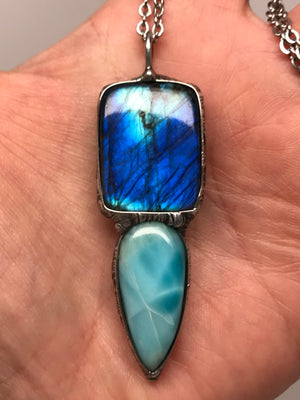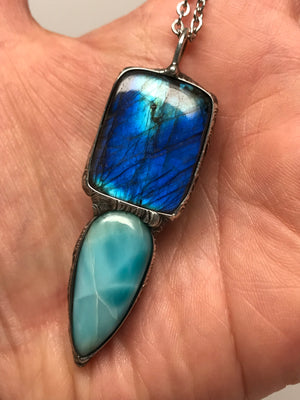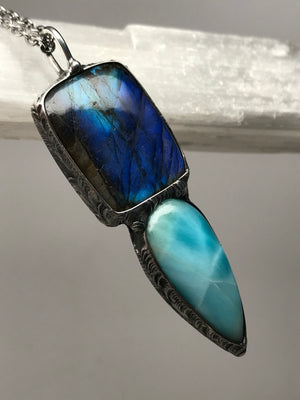 Blue flash Labradorite and Larimar pendant
Larimar is a perfect tool for anyone who finds themselves struggling with controlling emotions and communicating how we truly feel within. This stone activates and unlocks our throat chakra and helps to open ourselves up to the loved ones around us. This stone will help keep your mind in a calm state and allow for true emotions from the heart to surface. When one is able to talk through difficulties that they're facing, one will
soon realize there is a solution. Simply letting yourself hear what you have to say will help you better understand yourself and your needs. So often does our mind become foggy or polluted with unnecessary, negative thoughts. When this happens, one will never find a solution to their problems. Larimar is here to show you the inner strength you possess, and the importance to vocalize the issues we hold so close to our hearts.
A stone of transformation, Labradorite is a useful companion through change, imparting strength and perseverance. It balances and protects the aura, raises consciousness and grounds spiritual energies. Excellent for strengthening intuition-promoting psychic abilities. Powerful in revealing the truth behind illusions, Labradorite banishes fears and insecurities, and strengthens faith in the self and trust in the universe. It stimulates the imagination and calms an overactive mind, developing enthusiasm and new ideas.
Labradorite is used to treat disorders of the eyes and brain, stimulates mental acuity, and relieves anxiety and stress. It helps to regulate metabolism, to balance hormones and to relieve menstrual tension.