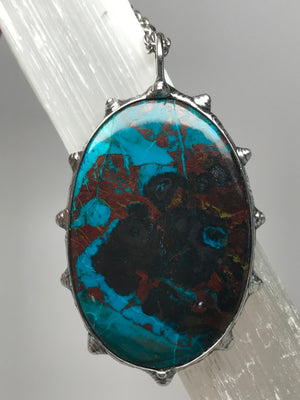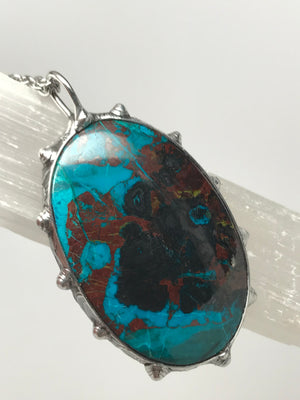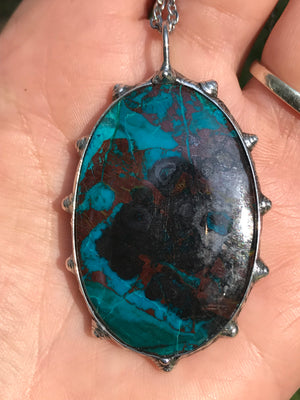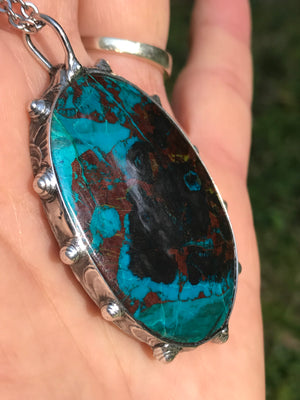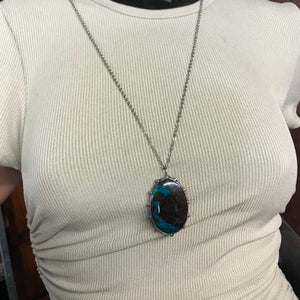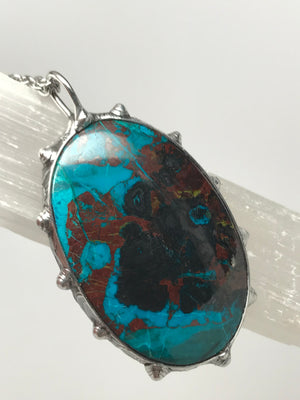 Chrysocolla and Azurite pendant
The energies of chrysocolla are especially known to work miraculously when connecting with the throat chakra and the heart chakra. Chrysocolla, also referred to as the stone of communication and harmony, allows the throat chakra to be transparent and facilitates the freedom to express oneself truly. It allows one to open the lovingness and warmth of the heart and to express what and how we feel. 
Green crystal energy, such as that of chrysocolla, is employed to regain the lost balance of the Anahata, or the heart chakra, and enhance the understanding of our own emotions and needs. 
Chrysocolla is a stone of peace, love and wisdom. It soothes emotions and aids in clear communication and intuition. It, too, is ruled by the planet Venus and the element of water. Chakras associated with Chrysocolla are the heart and throat.
Azurite is also a healing stone. It is a good crystal to use for divination, psychic awareness and creativity. It is also ruled by Venus, but Water it its ruling element. Chakras associated with Azurite are the throat and third eye.
Special combinations of Chrysocolla-Azurite can be powerful healing stones, especially with matters of the heart (both physical and emotional), communication and protection. 
Green Aventurine is known as the "Stone of Opportunity," thought to be the luckiest of all crystals, especially in manifesting prosperity and wealth, or for increasing favor in competitions or games of chance. Its winning energy makes it a great ally for boosting one's chances in any situation