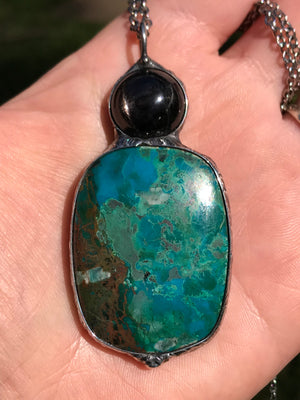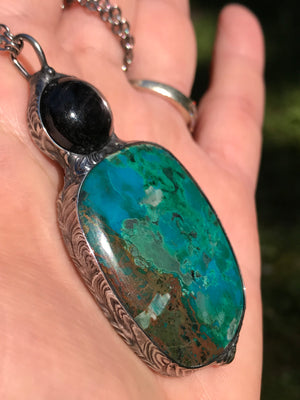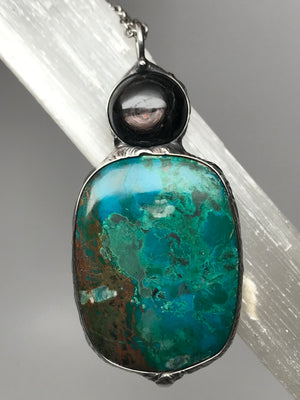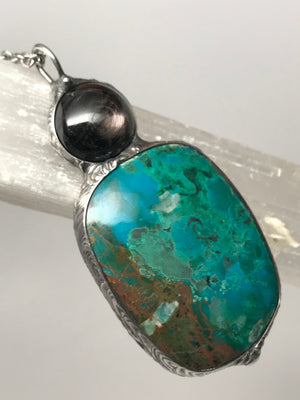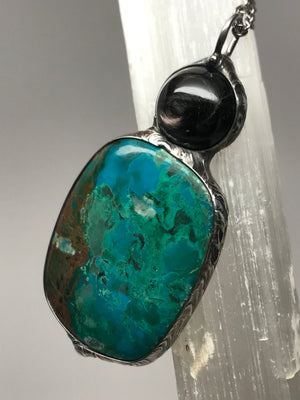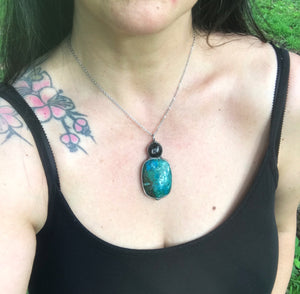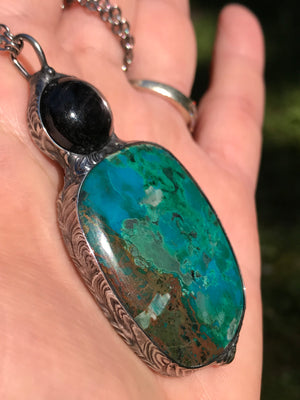 Chrysocolla and Hypersthene
*Please purchase chain separately*
different length options available
follow link 👇🏼
 https://preciousgrain.com/products/untitled-oct20_10-05?utm_content=ios&utm_medium=product-links&utm_source=copyToPasteboard
The energies of chrysocolla are especially known to work miraculously when connecting with the throat chakra and the heart chakra. Chrysocolla, also referred to as the stone of communication and harmony, allows the throat chakra to be transparent and facilitates the freedom to express oneself truly. It allows one to open the lovingness and warmth of the heart and to express what and how we feel. 
Green crystal energy, such as that of chrysocolla, is employed to regain the lost balance of the Anahata, or the heart chakra, and enhance the understanding of our own emotions and needs. 
 Chrysocolla is a stone of peace, love and wisdom. It soothes emotions and aids in clear communication and intuition. It, too, is ruled by the planet Venus and the element of water. Chakras associated with Chrysocolla are the heart and throat.
Black Onyx is a powerful stone that helps you find balance, strength, and protection. It has a history of being created by Eros, the Greek god of love, and it is associated with the zodiac sign of Capricorn.