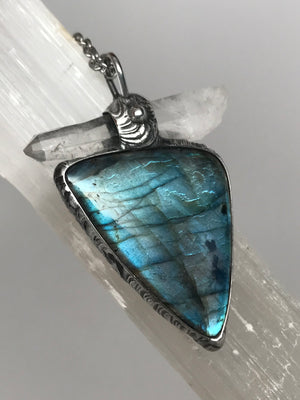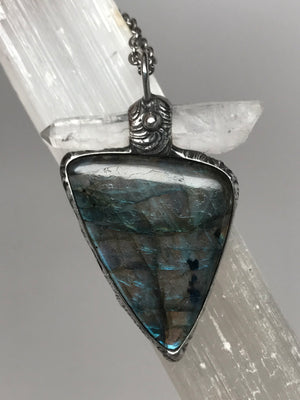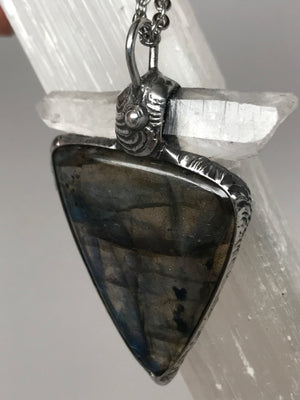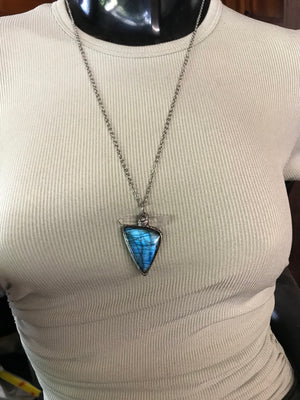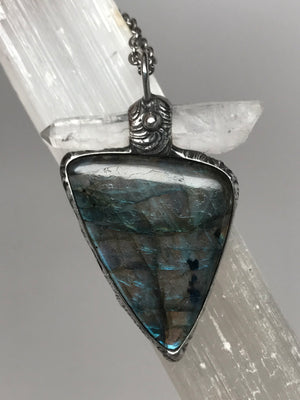 Clear Quartz point and Labradorite
Quartz is a power stone. It has been called the "Universal Crystal" because of its many uses. It enhances energy by absorbing, storing, amplifying, balancing, focusing and transmitting. It channels universal energy. Quartz also enhances thoughts, as they are a form of energy. Because it directs and amplifies energy, it is extremely beneficial for manifesting, healing, meditation, protection, and channeling. It is also beneficial for storing and retrieving information of all types, as information is a form of energy pattern also. This makes them particularly good for programming to use for a particular purpose. Due to its ability to balance, quartz is excellent for harmonizing and balancing one's environment. Quartz is also good for energizing other crystals.
Magical Labradorite ✨
Labradorite Healing Properties
♥ Transformation ♥ Promotes psychic abilities ♥ Strengthens our will ♥ Stimulates imagination ♥ Calming
Labradorite, also known as Spectrolite, is a Feldspar mineral. Labradorite in a white matrix is often called "Rainbow Moonstone".
Chakras - Base Chakra
Zodiac - Leo, Scorpio, Sagittarius
Planet - Uranus
Element - Water
Typical colours - Pale green, blue, colourless, grey-white: with iridescent blue or gold flashes
A stone of transformation, Labradorite is a useful companion through change, imparting strength and perseverance. It balances and protects the aura, raises consciousness and grounds spiritual energies. Excellent for strengthening intuition-promoting psychic abilities. Powerful in revealing the truth behind illusions, Labradorite banishes fears and insecurities, and strengthens faith in the self and trust in the universe. It stimulates the imagination and calms an overactive mind, developing enthusiasm and new ideas.
Labradorite is used to treat disorders of the eyes and brain, stimulates mental acuity, and relieves anxiety and stress. It helps to regulate metabolism, to balance hormones and to relieve menstrual tension.