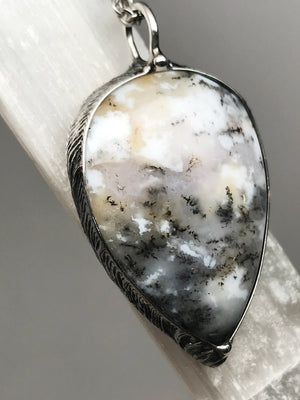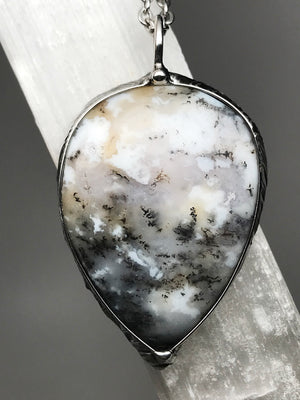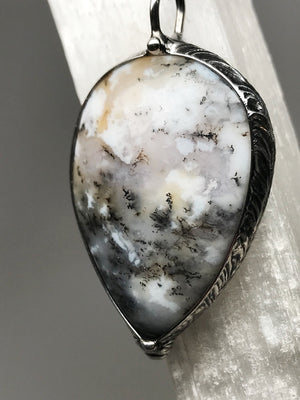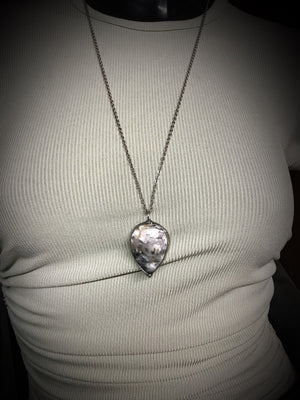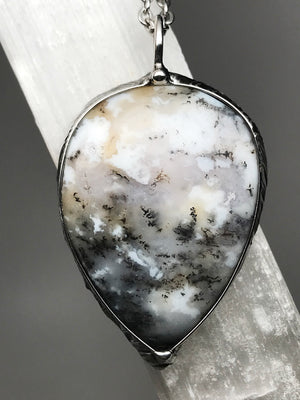 Dendritic Agate crystal pendant
Create a peaceful environment and take pleasure of every moment in life. Dendritic agate - the stone of abundance - in all aspects, both material and spiritual. It helps in opening and aligning the chakras and staying tuned with our roots. 
Here a few facts about this magnificent stone:
Agate is the name given to numerous varieties of banded Chalcedony, a mineral of the Quartz family. It gets its name from a Greek word meaning tree-like. These Agates are usually colorless, white, or gray, and have tree- or fern-like inclusions of iron or manganese, called dendrites.
Dendritic Agate is known as the Stone of Plentitude. It brings abundance and fullness to all areas of life, from business to agricultural endeavors. It was associated with the ancient Greek dryads, woodland and tree spirits, and was buried in the fields at the time of sowing to insure a good harvest.
It is ideal for examination of self, and the self-imposed limitations and patterns that make up one's life experiences. It is a helpful talisman for anyone involved in therapy, meditation, rebirthing, a twelve-step program, or any path of serious work that requires a day-to-day behavioral change necessary to achieve desired results.
Agate promotes marital fidelity. Dendritic Agate strengthens family connections, and a crystal next to a photograph of an estranged family member helps bring him/her home.
Dendritic Agate is a protective amulet when traveling, especially by air and against traffic accidents.