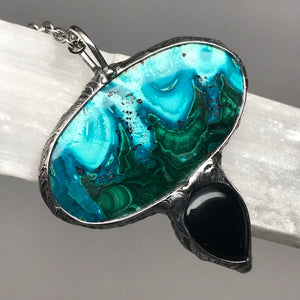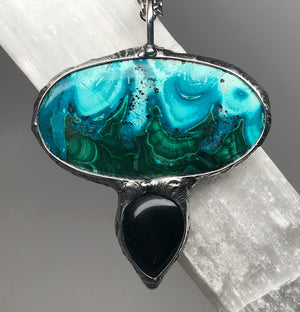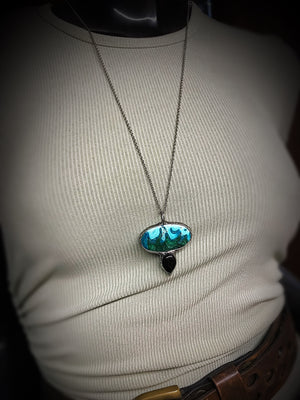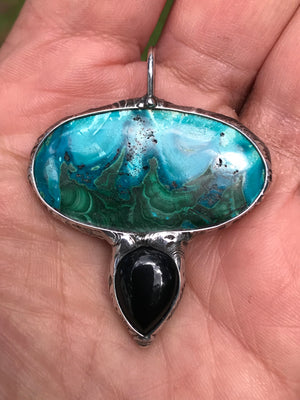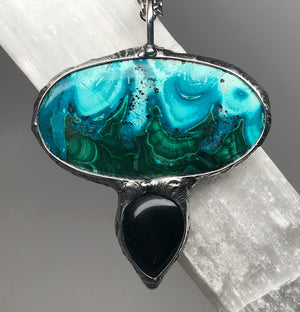 Find Peace and grounding with Chrysocolla-Malachite and Black Onyx
*Please purchase chain separately*
different length options are available 
💚💙
PEACEFUL POWER
Cleanse and re-energize all chakras.
Be open to change and transformation.
Communicate with love and clarity.
Live more authentically and beautifully
Let Chrysocolla Malachite inspire bliss!
Chrysocolla-Malachite is a wonderful stone for our emotional body. The Chrysocolla helps us to self-soothe and feel peaceful within our own heart, while the Malachite inspires us to be friendly and confident in our interactions with others.
Both stones are associated with creativity; malachite can bring creative impulses to the surface. Chrysocolla both stimulates creativity and, by releasing the fear of creative expression, can make the creation process a more flowing and enjoyable experience.
Onyx is a powerful warrior stone that helps you face your fears and release negative thought patterns. Learn how to use Onyx for psychic protection, spiritual growth, and inner healing.